Christmas 2021 Update
I am pleased to bring you my Christmas update. As ever, if you would like to sign up to my mailing list, you can do so on this page or by emailing david.simmonds.mp@parliament.uk. 
Dear Constituent, 
Since my last update, there have been some worrying developments around the Covid-19 pandemic and the emergence of the new 'omicron' variant. Whilst data is still under review, it has been widely agreed that our single best defence continues to be our vaccination programme. Now more than ever, it is crucial that we carry on boosting immunity to better defend ourselves against the dominant strains of coronavirus in the UK, as well as its mutations.
As ever, there have been mixed views from residents about the 'Plan B' measures that were voted through Parliament last week in response to the new variant. In my view, these are sensible and proportionate actions that will serve as a precautionary step while we gather more evidence on the full impacts of the omicron variant and, crucially, these measures do not discriminate.
Data is being kept under review, but at this stage it is important to manage the risk to public health, whilst also ensuring that we do not impose unnecessary restrictions and risk damage to the economy, mental wellbeing and confidence in the Government.
Since returning to Parliament in September, I have continued to support residents on both a local and national level, and I am pleased to share some of that work with you.
If you would like to see more of my latest news and updates, please do visit my website here. 
In the Constituency
Surgeries 
After many months of living 'virtually', I am delighted to have been able to continue holding in-person surgeries around Ruislip, Northwood and Pinner.
I see these surgeries as an excellent opportunity to reach all areas of the constituency and am grateful to be able to meet with so many residents face-to-face and to hear their views on a range of local and national issues.
It is also great to be able to show my support for some of our valued local businesses who have been impacted by the Covid-19 pandemic. After such a challenging period, it's heartening to see so many residents out and about in support of these businesses, which are such assets to our local high streets.
I would like to thank the venues who have hosted me over the past few months: Café Sombra and the Queen's Head in Pinner, TAG Drinks and Bucket List Coffee in Eastcote, Vito's Café in Ruislip, We Love Coffee in Harefield, Caffé Pascucci in Hatch End and Northwood Hills Library.
If you are a local business who would be interested in hosting one of my surgeries, please do get in contact with my office. Residents who would like to make an appointment to speak with me should also get in contact with my office via the usual channels.
Speaking with a constituent at Vito's Cafe in Ruislip
School Visits 
After a period of disruption, pupils were able to return to a more normal school life in September. As such, I was delighted to take the opportunity to visit some of our local schools and to see how they have been managing the recovery from Covid-19.
Most recently, I visited Bishop Ramsey in Ruislip to meet with Year 12 and 13 Politics Students. I was impressed by the challenging and insightful questions I was asked on a range of important issues, such as violence against women, migration, drug laws, devolution and climate change.
I am very grateful to all the students for their time and wish them the very best of luck in their studies.
Answering challenging questions from sixth form politics students at Bishop Ramsey
Climate change continues to be one of the key national issues and so I was interested to learn how children at West Lodge School in Pinner have been raising awareness about the climate crisis, particularly in light of COP26.
I was pleased to meet with school council representatives from Year 3 through to Year 6, who told me how they have been making more environmentally conscious decisions and changes as part of the school's sustainability drive and have been inspired to continue this at home. I was also delighted to learn that pupils took part virtually in the COP26 conference. It is important that these incredibly passionate young voices are heard as they are integral to driving climate action.
I would also like to give a special mention to Diane, the school cook, who makes delicious meals that are clearly enjoyed by the children. I was interested to learn about 'meat-free Mondays', another great way to get children thinking about our planet.
It was a pleasure to meet the pupils and staff at West Lodge and I very much look forward to visiting again in the new year.
With the Year 3 and 4 council members at West Lodge School in Pinner
I was also pleased to visit Gesher, a Jewish SEND school which has recently moved to Pinner. It was great to be given a tour of the impressive facilities and to learn about plans to enhance them over the next few years.
It was also particularly useful to talk in detail with staff about Gesher's innovative approach to special needs education, and for them to share with me their bold ambition for their children and young people's future.
I also enjoyed dropping into some of the classrooms to speak with pupils, who seemed particularly happy with the school lunches cooked by the school's in-house chef.
Thank you once again to the team for showing me around. I very much look forward to visiting again in the future and hopefully sampling one of these legendary lunches!
At Gesher School in Pinner last month
It was great to join Year 12 Economic students at Douay Martyrs School in Ickenham for a digital surgery recently, organised by the Politics Project. I was asked an excellent range of questions on topics such as the role of economics in political decision-making, migration policy, human rights and career advice.
I would like to say a huge thank you to the pupils at Douay Martyrs who took part and to The Politics Project for organising.
Speaking with students from Douay Martyrs at a digital surgery, organised by the Politics Project
Celebrating Local Businesses in Ruislip, Northwood and Pinner
In Ruislip, Northwood and Pinner, we are fortunate to have many small, local businesses on our doorstep, which are at the heart of our local community and cherished by residents. We all know what an incredibly challenging period it has been for our high streets and so it is important to recognise and celebrate these local businesses.
As such, I was delighted to take part in the Institute for Family Businesses first ever Family Business Week by meeting with the extended family running Jack's/Ruislip Park Stables, where many children get to experience a taste of the countryside in our wonderful suburb.
It was an excellent opportunity to celebrate and thank the contribution that this and all family-run businesses make to our local communities.
Celebrating Family Business Week at Ruislip Stables in November
In September, I joined the British Beauty Council in celebrating British Beauty Week by visiting Aanana Health and Beauty in Pinner, a long-standing local business with a loyal customer base.
I was pleased to hear from the team how their business is thriving and growing, despite the challenges of the pandemic. The beauty industry is huge in the UK and a key contributor to both our local and national economy and it was great to hear that they are feeling optimistic about the future.
I would like to thank the team at Aanana for their warm welcome and for taking time out of their morning to speak with me.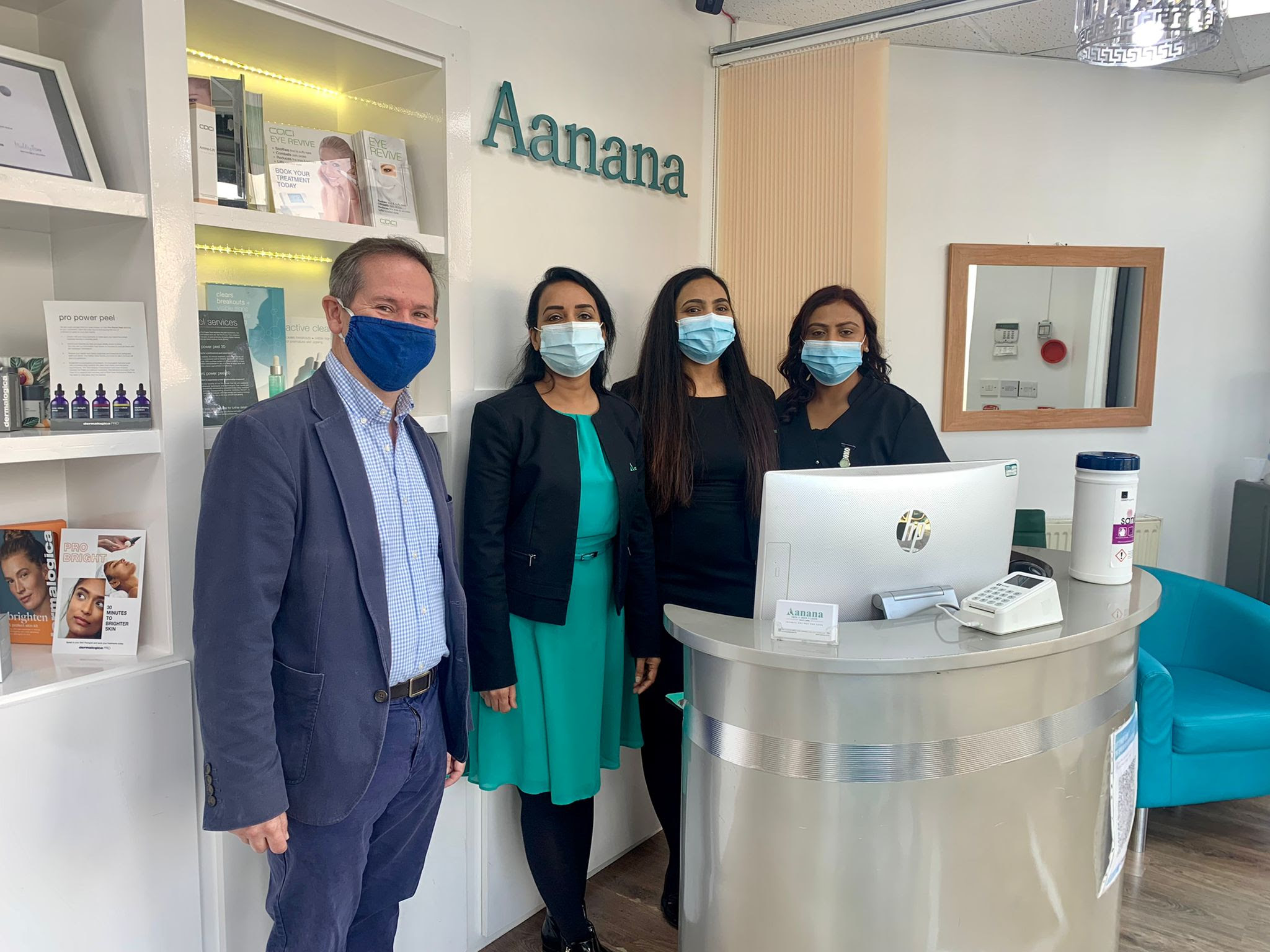 With the fantastic team at Aanana Health and Beauty in Pinner
The impact Covid-19 has had on our small businesses cannot be underestimated and I know that we have all been humbled by the resilience, resolve and determination they have shown in innovating and adapting to the challenges of the pandemic. Earlier this month, I was delighted to show my continued support, and encourage local communities to do so as well, by celebrating Small Business Saturday.
To mark the occasion, I paid a visit to Jean Page Florist, which I was amazed to learn has been at the heart of the Northwood community for over 100 years. It was pleasing to hear that support from residents has been strong, particularly after the challenges of the pandemic.
A huge thank you to all of our local businesses, and to the team at Jean Page Florist for the warm welcome, as well as for showing me the amazing display of flowers and Christmas decorations.
Supporting small businesses at Jean Page Florists earlier in December
The Little Local Book Hub
Residents may be aware of the Little Local Book Hub project, which launched in spring 2020 as a simple concept, enabling access to books at a time when shops, libraries and schools were closed during the first national lockdown.
It was a pleasure to visit Miriam, who runs the Eastcote branch of the Little Local Book Hub, and I was fascinated to learn how this concept has grown into a community enterprise – at one point there being over 30 hubs in and around the local area.
Sadly, some of these 30 hubs closed at the end of last summer, but volunteers decided to raise money for weatherproof units that would enable them to carry on operating throughout the winter months. I am pleased that one of these was Miriam, who managed to successfully raise £1500, which she used to buy and fit a phone box. What once belonged to the lobby of a London hotel is now a local landmark filled with books for adults and children.
Miriam quite rightly takes great pride in leading the flagship permanent book hub and I would highly recommend anyone in the local area to a visit. You can find out more about the project here. 
With the wonderful Miriam at the Little Local Book Hub 
Bulb Planting with Friends of Pinner Village Gardens
I am always grateful to hear about community-led projects that help maintain and improve our wonderful local greenspaces. It was therefore a pleasure to be out in the beautiful winter sunshine with some of the volunteers for the Friends of Pinner Village Gardens recently.
The team updated me on some of the things they've been working on, most recently creating a new raised bed at the Rayners Lane Gate. Thanks to the work of volunteers, the initial building work is now finished, with a beautifully handcrafted stone circular wall, and is now ready for further work.
I was interested to speak with Natalia, a committee member and talented garden designer, who is responsible for the rose circle and raised bed at the Compton Rise entrance and who is leading on the design work for the next stage of the project. I understand that sculptures will be added, and then the soil and planting can begin. Natalia is also adding planting to the side green and by the noticeboard, which is what I came to speak with the team about last month. 
I would say to residents, if you do have any spare time, please do join the Friends of Pinner Village Gardens either at their organised work parties on Tuesdays or Fridays, at volunteer projects on some weekends or by maintaining an area ongoing. You can get in contact with volunteers via their Facebook page here.
With some of the Friends of Pinner Village Gardens volunteers
Local Crime 
Over the past few months, residents have continued to be in touch about local crime, in particular drug dealing in residential areas and the ongoing issue of catalytic converter theft.
I was therefore grateful to meet with the new Borough Commander for the West Area, covering Hillingdon, Ealing and Hounslow, Chief Superintendent Sean Wilson, recently and to have the opportunity to raise some of these important issues with him. We had a really useful discussion about ways in which we can work together to tackle these issues and to also help increase public confidence.
I look forward to working with Sean and his team to achieve this and will keep residents updated.
Meeting with Chief Superintendent Sean Wilson in Harefield earlier this month
Remembrance Day
After what was a very different commemoration in 2020, it was good to be able to attend local remembrance services this year.
I joined the children of Cannon Lane Primary School at the Eastcote War Memorial to honour Armistice Day. This was organised by the Eastcote Branch of the Royal British Legion and I am grateful to them for their efforts.
On Remembrance Sunday, I visited Harefield Village Green for the Remembrance Service, alongside Councillor Jane Palmer and the Mayor of Hillingdon.
Though I was sadly not able to attend all organised events, I laid a wreath and paid my respects at the Pinner War Memorial, alongside local councillors Hitesh Karia and Norman Stevenson. A wreath was also laid on my behalf at the Northwood War Memorial.
Finally, I was honoured to place a tribute in Parliament's Constituency Garden of Remembrance for the men and women of Ruislip, Northwood and Pinner who made the ultimate sacrifice to defend their country and protect our freedoms. We must remember them. 
At the Constituency Garden of Remembrance in Westminster 
HS2
I continue to meet regularly with HS2 Ltd to discuss various issues that Hillingdon is facing as a result of their works. Last week, I visited the site at West Ruislip and was very pleased to see some of the processes now in place as the result of resident feedback. 
We primarily discussed the work going on ahead of the Tunnel Boring Machines (TBMs) launching from this site in the spring. The first point that many residents may have already noticed is the removal of street furniture on certain roads. This was to facilitate the delivery of some of the biggest components from the TBMs. These deliveries have now all been completed and so this will no longer require such a large scale of disruption.
The next piece of news is a little bittersweet, but HS2 are required to do some utilities work before the TBMs pass underneath them. The one section which falls in my constituency is on Ickenham High Road, outside West Ruislip station. The positive news is that thanks to the hard work of councillors, officers, and residents we have now managed to change the programme of works to ensure the road will now not be closed. The central reservation will be taken out to ensure there is still space for two lanes of traffic while the work is undertaken. This is due to start on 10th January.
The other major set of works is going to be taking place in Uxbridge and South Ruislip, down by Ruislip Gardens station and it is my understanding that conversations are still being had about the specifics and timeframes.
Constituents who regularly travel down Breakspear Road South will know how frustrating the traffic lights are just after the railway bridge. We also discussed this point and while I understand they have had issues with the traffic lights, it is the intention that the bridge connecting the HS2 sites either side of the road will be open in February or March next year.
I am in no doubt that we are about to enter a period of works which are going to be very disruptive, with HS2 working more within the community and not just their sites. However, I am hopeful that once the TBMs have launched in April and May we shall find ourselves in a much better place as the tunnelling operation gets into a regular pattern of work.
As always if you are experiencing particular difficulties, please get in touch and my office, who will always do everything we can to assist. 
Visiting the HS2 site in West Ruislip
A Local Success Story
If we have learnt anything from the pandemic, it is that broadband is an essential component of modern life and I have heard from many local business owners who rely on superfast broadband to keep their operations running.
In addition to the accessibility of highspeed broadband, for much of the past two years the very same business owners have also had to contend with the impact of the Covid-19 pandemic, which is especially true for the hospitality sector.
I am therefore delighted to share some positive news from Sean White, landlord at the Queen's Head in Pinner. 
"The expansion of highspeed broadband to Pinner has come thanks to government support for this initiative. Aimed primarily at business, customers can access these grants through their provider, such as BT and Openreach.
 In our case we signed up for a very competitive 3-year deal and now achieve 100mbs up and downstream. The installation was complex and took two days but was entirely free of charges supported by the government grant.
 We still have 12 staff, one of whom is an apprentice, and we have accessed government funding towards her salary costs, but also the business NI costs and her training. The government initiative during the national lockdown to encourage al fresco dining enabled us at very low cost to establish an area at the front of the pub that accommodates 36 customers.  This alone created one full time job on £10.50 an hour plus training and other perks.
We are submitting plans for a major extension which will create a new pizzeria in Pinner in January 2022.  This will represent an investment of £220,000 and will create four new full-time jobs.  I think it is important for local business to continue where they can, to believe in a good future and to invest early in that future.
 
I would just like to add, that David Simmonds is one of the hardest working constituency MP's I have ever come across.  He is absolutely at the 'coal face' when it comes to local business, he believes in creating well paid jobs with training, and his success is evident across the constituency". 
I am hugely grateful to Sean and the team at the Queen's Head for their support. If there are any local businesses who would like to share some positive news, or who would like my assistance in any way, please do get in touch with the office.
With Sean White on Nationality Hospitality Day in September
In Parliament
In addition to the everyday business of Parliament, we have seen some very big pieces of legislation progress through since I last wrote this update and I wanted to share with some of the things I have been involved with.
Social Care Reform
Back in September, we saw the announcement of some social care reforms. Both at the time and since then there has been quite a varied reaction from constituents who have spoken to me. As I have said to those who got in touch, despite finding it difficult to vote in favour of tax rises, the social care sector has been crying out for a sustainable funding package for at least the last 20 years. There is no perfect way to meet this funding requirement, and the attempts of previous governments to bridge this gap with a more 'soft touch' approach have not been successful.
I am pleased that we are finally addressing this long-overlooked issue within social care, but we must be sure that this is not just more money which is consumed by inefficiencies in the health care system - it must deliver value for taxpayers. Similarly, we must ensure that the other parts of this industry are not overlooked. Local Authorities play the largest role in providing social care for children and working age adults - this represents about two thirds of social care spending. Local Authorities, charities and private sector providers must be fairly included in these reforms to ensure this both delivers quality of service for those receiving support and value for money for those who are going to be contributing more through tax.
My contribution can be watched here.
Sitting Fridays
We have had a good number of Friday sittings lately and I was very pleased to take part in one in October. These sessions give us an opportunity to debate and champion some of the issues which are close to MPs' hearts and show Parliament at its best. During the Second Reading of Carolyn Harris' Menopause (Support and Services) Bill, I was very keen to look at how we can turn the aspirations of the Bill into transformational changes for women. One of the areas which we could look at is how local health and wellbeing boards can drive forward the education and awareness of these services in their areas. If we are able to build the same level of awareness and encouragement that we see with infant health check-ups with a menopause check, it would be a massive step forward and drive a hugely positive change for the 51% of population who are actively impacted by this.
The other positive thing to come out of this debate and the awareness it has generated is that Local Authorities and GPs have to share best practice to ensure there is no stigma and some of the cases raised by colleagues, where women have suffered in silence, are not repeated going forward.
Thanks to the awareness the debate generated it is brilliant to see the Government are taking direct action to tackle the issue of taboo and make the experience better for women. In particular, they are moving to change the prescribing cycles for repeatable hormone replacement therapy (HRT) prescriptions. This would mean women would only have to pay one charge for a 12-month supply, offering a saving of up to £205 a year.
You can watch my contribution in the House on my website here.
The Budget
In November, the Chancellor delivered his budget. Despite it being delivered under very difficult circumstances, it contained a huge number of very welcome announcements. During my contribution to the debate, I wanted to highlight three main areas of work.
The first of these is the support being provided to councils like Harrow and Hillingdon to look after refugees and asylum seekers in line with their statutory obligations. I am very pleased that council colleagues are indicating that it will be sufficient to ensure we can fulfil our country's promise to resettle 20,000 refugees from Afghanistan.
The second was the additional investments in families and early years, with the Chancellor announcing a £300 million package to support our 'Start for Life' offer. During my time as a councillor locally, I have seen the benefits we can bring to all our children through well-organised and properly resourced services, such as nursery schools, health visitors, and childminders and it is the essence of 'levelling up' that we extend opportunity to all children.
Finally, I was also very pleased to hear that the Government will continue to provide over £200 million a year for the Holiday Activity and Food Programme. I have been critical of extending Free School Meals in the past for the very reason that they don't reach all the children that need help, such as those children who are below school age and those in the most challenging circumstances. This programme has shown to make a massive difference to some of the most vulnerable children in our communities and I thank the Government for taking the brave step of ensuring we are able to offer something better than just continuing free school meals over the holiday.
Early Years
Shortly after the budget, we were fortunate to have a backbench business debate dedicated to the Early Years Sector and how we ensure every child receives the best start in life. Through my experience of working in children's services, I have seen a lot of this work first-hand and while we are very good at emergency responses and protecting children from harm, the positive thing about this debate was that it moved the conversation on to how we can help all children thrive. This is not only a positive step for the social development of each individual child, but it is good for the future economic development of the whole country.
When looking at how this funding is allocated, I would like Ministers to ensure it does not get caught within the bureaucracies of educational funding at a local authority level. The current system sees this funding go through the schools forum which, for understandable reasons, is largely dominated by the secondary schools. The early years sector, which is much smaller and made up of many different forms, struggles to make itself heard. I would also like to see more focus on innovation to provide a more joined up local early years offer, something the Family Hubs will help to deliver.
Following on from this, and moving away from funding, I raised two further asks of Ministers. The first was that a strategy to help children thrive, in line with the first 1,001 days ambitions and the Best Start for Life Report, be developed. This will allow new parents to better understand all the services which are open to them, from health visitors and breast-feeding support, through to childcare and money advice. These services are all already there but are often fragmented and difficult for new parent to find.
The other ask I had of Government was to look beyond some of the current inspection mechanisms, which are largely focussed on school readiness and avoidance of harm. While these are very important, I would like to see this expanded to take a more holistic approach to children's development.
Please click on the video below to watch my full contribution.
Speaking in the Giving Every Baby the Best Start in Life debate
Environment Act
In November we also saw the long-awaited Environment Bill receive Royal Assent and pass into law. I know this piece of legislation has received a lot of media attention, but it will do so much to protect and improve our natural environment for future generations. It covers everything from cleaning up our air and water ways, to increasing biodiversity and natural habits, and reducing waste.
On the specific point of sewage discharge, which is what I know most constituents wrote to me about, I did not originally vote with the Government on this point. While the amendment was stronger than the media were alluding to, I still felt we could do more. When the Bill came back from the Lords for a second time, it had been amended again to insert a new clause which legally requires action on the part of the water companies.
Health and Care Bill
During the last week of November, we had two days of debate where we completed the final stages of the Health and Care Bill in the House of Commons. The proposed reforms this Bill delivers will continue to improve the quality of our health and social care services and patient outcomes, but during both of my contributions I spoke about the amendments that I had tabled.
On the Monday, I spoke about New Clause 55, which would insert a clause relating to the guidance for babies, children and young people. As I mentioned above, it was great to see the Government recognise the importance of early years with the long-term investments in families and children that the Chancellor announced at the Budget. The amendment that I had tabled would have helped to move that debate on with practical change.
Within the Government's Early Years Report, there was a recognition that the creation of ICSs and the NHS long-term plan has done a lot to shape the focus on care quality and outcome improvements for children's health.
I welcomed the commitments made by the Minister during the Committee Stage of the Bill that his officials were drawing up bespoke guidance for how ICSs should meet the needs of babies, children and young people, but I would like to see us take this further by giving it a statutory footing. This amendment would require an ICS to act in accordance with this guidance. Without this statutory basis, the guidance will be optional and there would be no way of holding local systems to account where they have not followed it.
On the Tuesday, I spoke in support of amendments 103-105 which were intended to compliment the reforms being made to the Secretary of State's ability to intervene in NHS reconfiguration proposals. Local Health Overview and Scrutiny Committees play a vital role in reviewing local healthcare commissioning decisions. This is particularly important where a local authority or community find themselves at odds with the decisions of an NHS Trust or other commissioning body. HOSCs are the statutory consultees with regard to substantial reconfigurations and variations in health services and I worry that if left unamended this important form of local accountability will be undermined.
This Bill will now make its way through the Lords before returning to the House of Commons sometime next year.
My contribution can be watched on my website by clicking the image below.
Speaking during the two days of debate on the Health and Care Bill
Nationality and Borders Bill
Those who follow me closely will know that the asylum and resettlement system is an area of work I have been very active in for a long time. I know this is an issue which evokes a lot of emotion from both sides of the debate. As I have said to many people who have got in touch, the situation we have got at the moment is highly unsustainable and we need to tackle the cross-channel crossings, but that does not mean we ignore our international obligations to support these desperate people.
At the start of this month, we saw the Nationality and Borders Bill pass its final stages in the House of Commons. This Bill will help to both stop those people who should not be here reaching these shores and then removing the ones that do reach here. However, this does also mean that we need to offer those safe and legal routes because otherwise we push people into the hands of criminals and take the dangerous cross channel routes.
Historically we have an exceptionally good record with regards to asylum and we did a very good job with schemes such as the Syrian Resettlement Scheme. The issue is that the routes that were previously open to people to get here safely are not currently functioning and hence people are forced to make those dangerous journeys.
Flood Management in Ruislip, Northwood and Pinner
I took part in a round table discussion organised by a think-tank, Localis, about the management of flooding, which causes concern to many residents locally especially in parts of Ruislip near to the River Pinn. I made the case to representatives of the insurance industry, Environment Agency, and flooding experts that we need a more joined-approach rather than parts of the system only considering matters directly concerning them. This would help to ensure that property developers consider the risks to nearby properties from their works, for example.
The River Pinn runs through Pinn Meadows, where I have visited many times
Contact Details Update 
A note to residents to inform them of changes to my constituency office number, as of January 1st. An updated list of contact details can be found below: 
Constituency Office Contact No: 0203 545 2462
Westminster Office Contact No: 0207 219 6578
Email: david.simmonds.mp@parliament.uk 
Website: davidsimmonds.org.uk
Facebook: facebook.com/DavidSimmondsMP
Twitter: @DSimmonds_RNP
Merry Christmas
In September, I invited children in primary and junior schools across the constituency to design this year's Christmas card. The theme was local wildlife, and I am thrilled that so many children decided to get creative and take part.
I was genuinely overwhelmed, not only by the number of entries, but by their creativity. This made it an incredibly difficult decision to choose one winner. However, I am delighted to announce that Aditya Bhandari, Age 8 from Reddiford School, designed this year's winning entry. I am also delighted to announce four runners up, whose designs will also be featured on the card:
Jack Oktay, Age 8, Cannon Lane Primary School
Miriam, Year 5, Hillside Junior School
Ariyan Vaghjiani, Age 10, Reddiford School 
Kanishka Gajendran, Age 13, St Helen's School
I would like to say a huge thank you to all 2021 entrants from Cannon Lane Primary School, Hillside Junior School, Reddiford School and St Helen's School. I was so impressed with the efforts that I have included all entrants' names in the final card. All designs are also displayed on my website here.
The winning entry by Aditya Bhandari, Age 8, Reddiford School
Top L-R: Jack Oktay, Age 8, Cannon Lane Primary School and Miriam, Year 5, Hillside Junior School
Bottom L-R: Ariyan Vaghjiani, Age 10, Reddiford School and Kanishka Gajendran, Age 13, St Helen's School
And finally…
Despite concerns, I would like to assure residents that we are in a much better position than last year, owing to our vaccination programme and the sacrifices made since last March. I hope that residents are looking forward to spending time with loved ones over the festive period and extend my warmest wishes for a very Merry Christmas.
Best regards,  
David